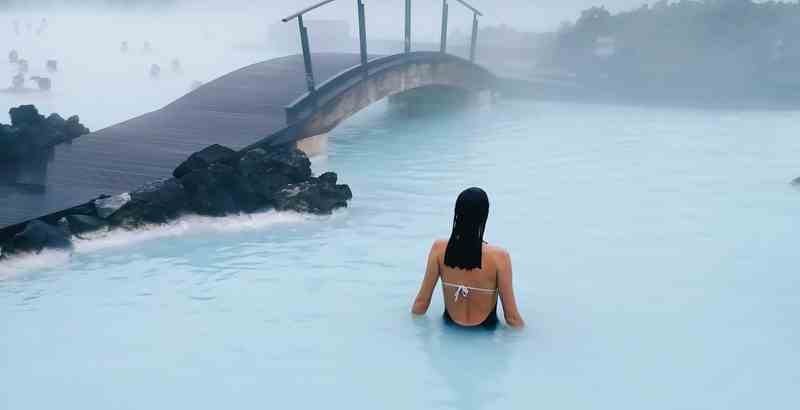 Visit The Blue Lagoon Near Keflavik Airport
Located in the south-west of the country, about 16 kilometers from Reykjavik in the little village of Grindavik, Iceland's famous Blue Lagoon was officially created in 1992. Since then, the warm geothermal pools and spa have attracted thousands of visitors. The waters of the pools are said to beneficial to human health, in particular the skin. For this reason, several companies offer beauty treatments at the Blue Lagoon. But most people simply come because it's so enjoyable to bathe in the pools, which sit in a lava field on the Reykjanes Peninsula, a location well known for its geothermal power production. The Blue Lagoon is located at Nordurljosavegur 9 and can be contacted on +354 420 8800. The spa and pools open at 8.00 am daily. The Blue Lagoon is located roughly 20 kilometers from Keflavik Airport.
Sitting about 230 meters above sea level, the Blue Lagoon offers visitors not only enjoyable time in its naturally warmed waters. The LAVA restaurant serves fine food daily from 11.30 am onward. Reservations are a must (contact@bluelagoon.is). The menu includes many wonderful seafood dishes, prepared from fresh local ingredients. The restaurant was built directly into an 800-year-old lava cliff that sits on the west bank of the Blue Lagoon.
The pools get their waters supplied by the Svartsengi geothermal power station, which supplies water that is enriched with minerals such as sulfur. Heated to at least 37 degrees Celsius (99 degrees Fahrenheit), the warm waters are renewed every couple of days. The Blue Lagoon is the world's largest man-made lagoon of its kind and the perfect way to discover what it means to be an Icelander.
UNBEATABLE VALUE CAR RENTAL

FREE
Amendments,
FREE
Cancellations,
NO
card fees!

airport_shuttle Need Airport Transfers?
Useful Information about Keflavik Airport