Keflavik Airport Departures (KEF)
Not all flights may be showing. If not available use search above to find your flight by airline, airport or flight number.
Destination
Airline
Flight no.
Scheduled
Est./Actual
Status
Katowice (KTW)
Wizz Air
W61168
11:30
Scheduled
London (LHR)
British Airways
BA895 expand_more(3)
11:40
Scheduled
London (LHR)
American Airlines
AA7230
11:40
Scheduled
London (LHR)
Jet Linx Aviation
JL7760
11:40
Scheduled
London (LHR)
Qatar Airways
QR9703
11:40
Scheduled
London (LTN)
easyJet
U22644
11:40
Scheduled
Cleveland (CLE)
United Airlines
UA3850
12:05
Scheduled
Riga (RIX)
Air Baltic
BT170 expand_more(1)
01:30
Scheduled
Riga (RIX)
Icelandair
FI7170
01:30
Scheduled
Toronto (YYZ)
Icelandair
FI711
03:00
Scheduled
No flight departures were found at Keflavik Airport.
Flight Departures at Keflavik Airport
Iceland's main airport is Keflavik Airport, which comprises of two buildings. There are self-service check-in counters and self-service baggage drop-off points in the main terminal to speed up departures. Passengers can travel to the airport via a convenient shuttle service, the Flybus, which runs every 35 to 40 minutes. In Reykjavik passengers can board the Flybus at BSI Bus Terminal. There is also an Airport Direct service, which runs via the Reykjavik-Hamraborg, Kópavogur route.
The departure times for the Airport Direct service are linked with arrivals and departure times at the airport. Airport Direct also offers passengers a premium service with a smaller 8-seater shuttle, which is a door-to-door service. Passengers can be picked up from their hotel or guesthouse and taken to the airport.
Flybus tel +354 5805400, main@re.is
Airport Direct tel +354 497 8000, info@airportdirect.is
The main terminal building contains the arrivals hall, where Duty Free shops are located, as well as a Food Hall and various coffee shops and restaurants.
The taxi stand is just outside the terminal building. There is an area set aside for car rental firms and the airport shuttle takes passengers from the car rental office back to the terminal, after they have dropped off their rental vehicle.
Short-term parking for drop-offs is located just outside the arrivals hall. The first 15 minutes are free of charge. Parking for one hour costs 500 ISK, and every hour after the first costs 750 ISK.
Long-term parking costs 1,750 ISK per day, and any additional day costs 1,750 ISK. There is also a convenient valet service, where the valet parks the car for the passenger. The service must be pre-booked.
Was your flight delayed or cancelled?
You may be eligible to receive up to 600 EUR compensation per person in your party..
Claim Now!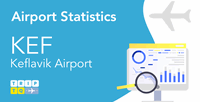 Record-Breaking Keflavik Airport's Q3 2023 Passenger Traffic Outshines Pre-Pandemic Figures by 14.14%